Design and the Speculative Mind
Daijiro Mizuno Laboratory
Why do you design?
What do you design?
How do you design?
Design of any kind -whether it is product, system or service- can serve not only as problem-solving but also problem-finding toolkit. Think again, what problem do you think a pair of jeans solve? Or what problem does a mobile phone bring to us? Our task is to give people source of inspiration, offering "visions of the alternative future" for debate. Traditionally such visions have been illustrated in Literature, Film, Fine Art and Science, and now it is our turn. By combining, appraising and criticising wild ideas drawn from various fields, we need to come up with design that creates debate for the alternative future.
Design shall not be content with philosophically positive position. The power of design lies in the way we understand social issues; design can break down issues with humor and wit to make it accessible to the public. Using such power, our task is not about fostering problem-solving skills but also problem-finding mind to imagine and question the alternative future. It is precisely in this sense that human-centric design research should be applied and transfer the found inspirations to design of products, systems and services. At Keio SFC Mizuno Lab, members are encouraged to study the necessary methods and tools to foster speculative mind to challenge various social issues.
This Lab has three primary topics:
1) Design Research for Tactical Design Re-evaluation of the bricolage and ad hoc design in the age of digital technology. Looking at service and community design related subjects to articulate the creativity of the citizen.
2) Fashion Design and Socio-Cultural perspective Fashion design in Japan has been renowned for its distinctive ideas and looks, both on the catwalk and the street. We will work on Fashionista, a Japanese fashion critique periodical I run to analyse the cultural characteristics of fashion design.
3) Social Inclusion in Design Thinking about products and services to achieve social inclusion of the widest possible members of society. We will look at subjects relating to human-centered design and FabLab to practice open source design in the context of inclusive design.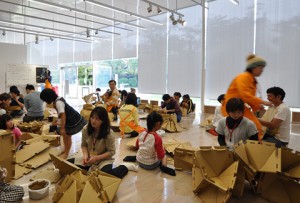 Faculty
水野 大二郎
Assistant Professor, Faculty of Environment and Information Studies, Keio University


水野大二郎 プロフィール